How many times have we asked someone about their job and been told,
"Too much stress!"?
And how many people have found themselves identifying even more with this answer in the recent years since the pandemic's outbreak?
Αccording to the EU strategic framework, mental health issues have affected millions of people in the EU, with half of the EU workers believing that stress is a common occurrence at work. However, the outbreak of the Covid-19 pandemic has exacerbated the situation: levels of work-related stress and burnout have reached an all-time high, resulting in a growing focus of employers and HR professionals on the concept of workplace well-being.
"If health issues are proactively managed with the right support in place, they're usually less likely to escalate and employees are better able to do their jobs productively. Moreover, if employees aren't getting the support they need to stay fit and healthy, it's possible they'll require more frequent and prolonged absences." (Benenden Health - Why is well-being important in the workplace?)
According to research of KPMG on the effects of Covid-19, results show that 94% of workers are stressed. Recent evidence demonstrates that Covid-19-related health anxiety negatively affects employees' goal progress at work, family engagement, as well as somatic health, something that is further evidenced through the figure below.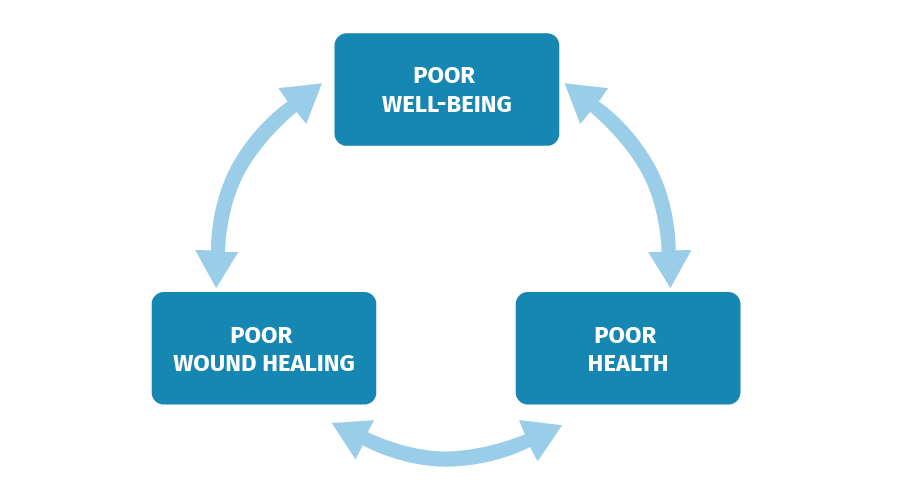 The THRIVE@WORK project responds exactly to this emerging need to address rising work-related stress, as well as to employers' and HR professionals' interest and priority in including workplace well-being on their agenda.
Through the THRIVE@WORK project, we intend to promote stress prevention and well-being at work by encouraging human resources professionals, in-company VET trainers, CEOs and owners of companies to dedicate resources and invest in programmes for the psychosocial well-being of their staff.
In particular, we want:
| | |
| --- | --- |
| | Human resources professionals, in-company Vocational Education and Training trainers, CEOs and company owners to invest in and implement well-being programs for employees, as well as to regard stress prevention and well-being at work as priorities. |
| | |
| --- | --- |
| | Employees to experience positive emotions, such as happiness and satisfaction, and to be able to develop and maintain meaningful relationships with others and fulfil their need for belongingness. |
| | |
| --- | --- |
| | Companies and Organizations to improve their productivity and profitability and to generate economic growth at national and EU level through the promotion of their employees' well-being. |
WHAT HAS BEEN DONE SO FAR?
From March until December 2022, we have worked on:
The THRIVE@WORK national and consolidated reports where we provided an overview of the existing landscape for workplace well-being practices and programmes, best-case scenarios as well as current training gaps, national policies, and formal national statistics in each partner country as well as at EU level.
In the reports, we presented findings from the primary research conducted at national level in each partner country, and we developed workplace well-being policy recommendations for policy-makers and decision-makers at government level, as well as for HR professionals/managers who wish to apply such policies in their organizations. This was achieved by using an online survey to assess the perceptions and training needs of in-company VET trainers (HR managers) in setting up well-being programmes for the organisations they work for.
If you wish to receive more information on the main findings of the THRIVE@WORK consolidated report, do not hesitate to contact us here.
1st Transnational Project Meeting (TPM) in Nicosia

The EU Handbook for the development of well-being programmes (Project Result 1) which provides practical guidance on how to plan, implement and follow up on programmes to promote workplace
well-being, starting from the very notion of well-being. The Handbook has been elaborated for HR professionals, who can easily consult it and find instructions and advice to ensure the psychosocial well-being of their staff and to ultimately enable them to thrive, at work and outside.

You can find the "EU Handbook for the development of well-being programmes" at this link.

For more information on the Handbook, please contact us here.
Once the first version of the THRIVE@WORK Training and Mentoring Programme is finalized, partners will meet in Leuven, Belgium, in February 2023, for a three-day Training of Trainers. In the ToT, each partner organization will be trained on every module, so as to be ready and trained to implement and test the Training and Mentoring Programme on a national level in pilots that are going to be organized in the Spring 2023.
The THRIVE@WORK Training and Mentoring Programme will be translated and available in English, Greek, Italian, Bulgarian and Dutch.
COORDINATOR

GRANTXPERT CONSULTING LIMITED - Cyprus
| | |
| --- | --- |
| | JOB-PAIRS - DIMIOURGIA EFKAIRION KARIERAS - Greece |
| | |
| --- | --- |
| | CATRO BULGARIA - Bulgaria |
| | |
| --- | --- |
| | NEOPHYTOS CH CHARALAMBOUS (INSTITUTE OF DEVELOPMENT LTD) - Cyprus |
If you want to take part to our project or learn more
about the THRIVE@WORK resources,
Contact us!
| | |
| --- | --- |
| Funded by the European Union. Views and opinions expressed are however those of the author(s) only and do not necessarily reflect those of the European Union or the European Education and Culture Executive Agency (EACEA). Neither the European Union nor EACEA can be held responsible for them. | |
THRIVE@WORK
Training programme for well-being at work for HR managers that want their organisations to thrive
EACEA, Erasmus +, Key Action 2 - VET - Cooperation partnerships in vocational education and training
Newsletter developed by CESIE
View web version | Unsubscribe
You have received this e-mail at [Email] because you are subscribed to CESIE newsletter.
We recently updated our Privacy Policy. Renew your consent to data collection here.
If you do not want to receive our newsletters anymore, please click here to unsubscribe.